Family-owned equipment reseller IBS Office Solutions has achieved the coveted Platinum Partner status with inkjet manufacturer Riso UK, in recognition of its growth and customer-centric approach.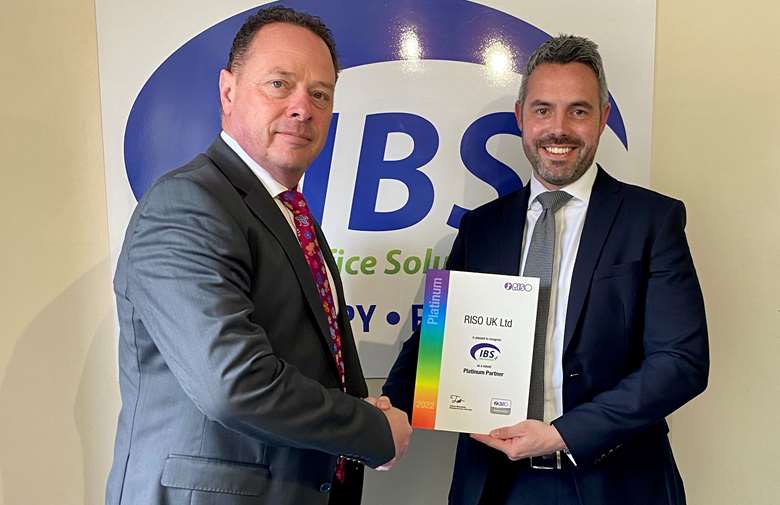 Southwell (left) receiving his award from Riso UK head of sales Russell Long
"To become a Platinum Partner is important because geographically no other Partner has achieved this status so it's a bit of kudos for us to say we are selling Riso and we are doing it well," said IBS managing director Caleb Southwell.

"We started at the bottom… and we have gone to the top of the pyramid through our hard work and a lot of support from Riso on the sales and technical front."
Riso Platinum Partners enjoy the highest levels of benefits and sales, technical and marketing support across the entire Riso product range.
Founded more than 25 years ago in Henley on Thames, IBS was already a dealer for other manufacturers but needed a unique product offering to help set them apart, and Riso provided that. So, in February 2021, Inplant Print Supplies, already a proud Riso partner, became part of the IBS business.
Caleb said: "Since then, IBS has gone from strength to strength, offering as it always has proper advice based on offering a solution that meets requirements.

"For us, it's not just about selling on price but on the advantages the printers bring to our customers, and this is down to the unique benefits of the Riso inkjet technology which are not offered by toner-based devices."
To find out more about the Riso Partner programme, visit riso.co.uk/partner-benefits or email info@riso.co.uk.